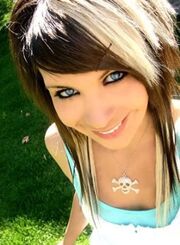 Alyssa Savannah Wofe was born on April 2, 1987 in Milford, New York weighing at 6lbs 12oz. She is the younger sister of NASCAR Sprint Cup Series crew chief Paul Wolfe.
Alyssa didn't have that great of a relationship with her parents, and it got so bad that she moved out when she was just fifteen years old, and lived with her best friend Tiffany for a year before staying with Paul as he raced in the NASCAR Busch Series (now known as the Nationwide Series). Because of that, she went and watched a Craftsman Truck Series (now known as the Camping World Truck Series) race if that series and the Busch Series were racing at the same track, and that's how the friendship between her and Summer Keselowski as she was driving in the Truck Series at the time, and she continued to hang with her when her brother's racing career was over in 2005 to try the role as a crew chief,
Alyssa Savannah Wolfe

Born

April 2, 1987 (age 24)

Hometown

Milford, New York

Sibling(s)

Paul Wolfe (brother)
In 2008, when Keselowski was in her second year in the Nationwide Series with Penske Racing, Alyssa learned some things about being a crew chief from Keselowski's crew chief Mark Crnkovic, and eventually learned more things about being a crew chief from Mark and from Paul when Paul started working for Penske Racing in 2010 where Paul was the crew-chief for Summer's brother Brad Keselowski.
Since it was confirmed that Mark was moving up to the Sprint Cup Series in 2012 in the crew-chief role for Summer Keselowski, it was rumoured that Alyssa would be Summer's Nationwide Series crew-chief, but she'd confirmed that she is going to be Summer's Nationwide Series crew chief in 2012 just a month after the rumour has been leaked out.
Alyssa's Twitter is @12AlyssaWolfe2. She mainly uses it to talk to her friends, fans of NASCAR, or fans of Summer and Brad.