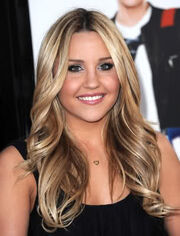 Carmen Lydnsey McMurray was born on October 2, 1984 in Joplin, Missouri weighing at 6lbs 12oz. She is the little sister of NASCAR Sprint Cup series driver Jamie McMurray

Growing up, Carmen wasn't really that close to her parents with the reason being that she liked her parents, but wasn't really that close. But, she has a really close relationship with older brother Jamie.
In high school, Carmen was one of those athletic kids, where she mainly participated in soccer, swimming, lacrosse, boys' football, baseball, basketball, and even go-karting when given the chance to. Because of her being so athletic during highschool, she was given an athletic scholarship to
Carmen Lydnsey McMurray

Born

October 2, 1984 (27)

Hometown

Joplin, Missouri

Resides

North Carolina
any university of her choice.
She then went to the University of Missouri playing just soccer and football and getting a degree in journalism. After getting her degree in 2006, she then hung out with Jamie as he raced in NASCAR.
in 2011, she decided to head back to Joplin just to see her friends as the last time she saw her friends was in the first off-week of the 2011 NASCAR Sprint Cup season, but was involved in the 2011 Joplin Tornado, which then a piece of metal broke her right foot and right ankle. After the tornado passed by (and since the main hospital in Joplin was heavingly destroyed), she was transported to the University of Missouri Women's and Children's Health Hopsital in Columbia, Missouri for a few months before being air-lefted to the Carolinas Medical Center-NorthEast in Concord, North Carolina. Carmen is currently in the rehabilitation stage for her foot and ankle to have it heal correctly.
Carmen resides in North Carolina with her brother Jamie, his girlfriend Madison and their ten month old daughter Jennifer Emma (born November 25, 2010)
Carmen's Twitter account is @JoplinBeauty1. She uses it to talk to her friends, fans of NASCAR, fans of her brother and posts updates of her foot and ankle.