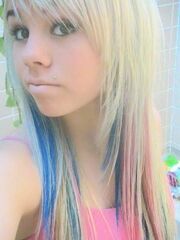 Hayley Nikki Edwards was born on May 4, 2011 in Columbia, Missouri weighing at 7lbs 1oz. She is the youngest daughter of Kate Downry and NASCAR Sprint Cup driver Carl Edwards. She is the twin sister of Michael Edwards and the younger sister of Anne and
Megan Edwards
. She is the niece of
Skye Edwards
and Parker Kligerman and the adopted cousin of Alexi Kligerman

Growing up, Hayley was a 'street kid', where she didn't follow what her mom
Hayley Nikki Edwards

Born

May 4, 2011 (age 20)

Parent(s):

Kate Downry (mother) Carl Edwards (father)

Sibling(s):

Michael Edwards (brother) Anne Edwards (sister) Megan Edwards (sister)

Family Member(s)

Skye Edwards (aunt) Parker Kligerman (uncle) Alexi Kligerman (cousin)
said and would always do the opposite of what she wanted to do, and it was all because she didn't see her father for 10 months out of the year, so it was by her mother's idea for her to be with her father just to have her attitude in check, and be home schooled while being on the road, and that's how she got her interest in racing.
When she turned eighteen, she was put into the Nationwide Series (while doing select Cup races), and in her first Nationwide season, she won three races, had 4 DNFs, all for blown enginges, and 1 pole. In her select few Cup races, she had two poles, three top 15 finishes and 2 DNFs, both for accidents.
She is intending on making the jump to race Cup full time in two years.
Hayley's Twitter account is @HaylsEdwards. She uses it to posts photos of herself and sister Megan, talks to her friends and fans of NASCAR.