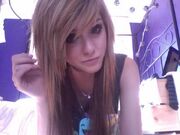 Jayden Liberty Penske was born on May 21, 1990 in Shaker Heights, Ohio weighing at 6lbs 1oz. She is the daughter of NASCAR and IZOD Indy Car Series owner Roger Penske. She is the youngest out of five older brothers

Jayden got her interest in racing when she saw her first Indy 500 in 1994 where it was won by Al Unser, Jr (who was driving for her father at the time), and got hooked to the racing of the Indy Cars, but even got more hooked more into racing when she saw her first NASCAR race two years later, which was the Daytona 500.
Jayden Liberty Penske

Born

May 21, 1990 (age 21)

Hometown

Shaker Heights, Ohio

Parent(s):

Roger Penske (father)

Relationship Satus

In a relationship with IZOD IndyCar Series driver Will Power
While growing up, Jayden was labeled as the 'outcast', because she wasn't looking like all the other girls at her school, which was basically they'd looked like a Barbie doll, and she didn't, but, she didn't care about looks, she just wanted to pass her classes and get the heck out of there and graduate. When she did graduate from highschool in 2008, she went to the July 20 'Honda 200' IndyCar race in Lexington, Ohio. Jayden ended up congratulating one of her father's drivers Ryan Brisco on the eventual win at the track and also met her future boyfriend in Will Power as he finished fourth in the event.
It was reported on July 14, 2009 that Jayden and Will were in a relationship. It was later confirmed a week later on July 21, 2009 by Jayden and Will themselves that they are in a relationship.
Jayden now spends her time helping out her father with his NASCAR team while being over in the Indy Car side as she's with her boyfriend Will.
Jayden's Twitter Account is @Dodge_Princess. She uses it to talk to her friends, fans of NASCAR, fans of Indy Car and updates her followers with what's happening in the NASCAR world and the Indy Car world.