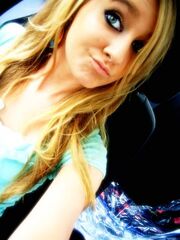 Kelsey Shannon Keselowski was born on April 26, 2013 in Rochester Hills, Michigan weighing at 7lbs 14oz. She is the daughter of
Serena Hamlin
and NASCAR Sprint Cup Driver Brad Keselowski. She is also the niece of Brian Keselowski,
Summer Keselowski
Trevor Bayne,
Marissa Bayne
, Denny Hamlin. She is the cousin of
Britney Hamlin
and the adopted cousin of
Trinity Bayne
.
At just a year old, Kelsey wanted to be a race car driver, when she grabbed a toy race car and just raced it across her toy room over and over again, and whenever she thought she won the race, she would pretend to celebrate like she was celebrating like she was in Victory Lane. She automatically knew that she wanted to be a race car driver...and she certaintly had the racing background to help her along the way.
Kelsey Shannon Keselowski

Born

April 26, 2013 (age 18)

Born

Rochester Hills, Michigan

Parent(s)

Serena Hamlin (mother) Brad Keselowski (father)

Family Member(s)

Brian Keselowski (uncle) Summer Keselowski (aunt) Trevor Bayne (uncle) Britney Hamlin (cousin) Trinity Bayne (adoptive cousin)
When she was growing up, she was only focusing on two things: her education and her racing. She was averaging a 89% in her schooling while averaging a 2.1 finishing average in her quarter midget races with the quarter midget car that Brad gave to her as a birthday present.
Kelsey didn't even attend her high school prom and her graduation dance because she was busy racing, but she was able to make it to her graduation in general. After her graduation, she was instantly put in a ride in the Camping World Truck Series driving for her father, where she won five races and ended up winning the Camping World Truck Series Championship in her first season. After that, she moved up to the Nationwide Series driving for Penske Racing in that series while still racing in the Trucks for her father. She has won four Nationwide Series races. She is planning on doing that for a while, before only driving select Truck Races then solely racing in the Nationwide Series and the Sprint Cup Series.
Kelsey's Twitter Account is @LittleKeselowski2. She mainly uses it to talk to her friends and fans of NASCAR.