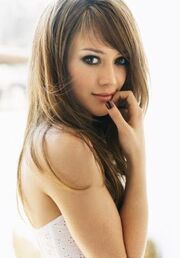 Kyra Grace Ford was born on May 23, 1992 in Stanley, North Carolina weighing at 7lbs 12oz. She is the youngest out of the three children, between two brothers Alec and Austin Ford. She is the daughter to NASCAR Sprint Cup crew chief Mike Ford
Kyra got her interest in NASCAR, when Mike brought her to her first race at Pocono Racway in 2006 where she met her future boyfriend Denny Hamlin as she officially met him after his victory celebration at the track.
When she's not out on the track in the summer, Kyra's at school, trying to get a good education and juggling some extra-curriculer activites, which are mainly soccer, lacrosse and volleyball.
Since graduating as a valedictorian in highschool in late May of 2010, Kyra went on the road with NASCAR full time, and ended up in Victory Lane with Denny Hamlin when he won at
Kyra Grace Ford

Born

May 23, 1992 (19)

Hometown

Stanley, North Carolina
Pocono, Michigan, Richmond, Martinsville and Texas.
At the Awards Banquet in Las Vegas in December 3, 2010, it was confirmed that Denny and Kyra are boyfriend and girlfriend after Denny asked her out after his second place finish speech.
Kyra's Twitter account is @LittleFedExBeauty11. She uses it to talk to her friends, Denny, fans of his or NASCAR in general, or to post photos of either herself, or her and Denny whenever she does.