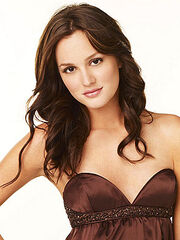 Liliana Mikayla Kahne was born on April 10, 1982 in Enumclaw, Washington weighing at 8lbs 4oz. She is the younger sister of NASCAR Sprint Cup series driver Kasey Kahne.
Growing up, Liliana didn't have that great of a relationship with her parents because (on a repeated basis), they'd said to her that she was a 'mistake' and that they really didn't want a daughter, but only another son. So, that is why she had a very trusted relationship with Kasey, because to her, he's the only person she could ever trust with anything in her life.
In highschool, she was known as the 'outcast', because she was 'different' frrom the other kids because of how she dressed - she dressed more like a tomboy with dressing like a girly-girl for only the special occasions and
Liliana Mikayla Kahne

Born

April 10, 1982 (29)

Hometown

Enumclaw, Washington
mainly wouldn't associate herself with everyone because of her home life, and that would've translated in her academics where in all of her classes, she was at least having a 59% average.
She decided to not to go college because she thought she was going to suffer from the same kind of bullying treatment she got in high school and ended up training herself in being a tattoo artist, and does tattoos for people for free (if they are her 'few' friends), or around $10 to $25 ofr other people. Liliana now spends her time hanging out with her brother and her friends on the road with NASCAR.
Liliana's Twitter account is @TattooBeauty4. She uses it to talk to her friends and either fans of NASCAR or fans of her brother.