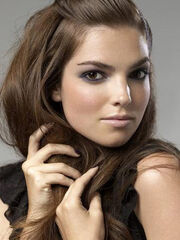 London Harmony Harvick was born on July 16, 1987 in Bakersfield, California weighing at 6lbs 1oz. She is the younger sister to NASCAR Sprint Cup driver Kevin Harvick

Growing up, London was the type of girl that would get suspended even before the first day of school. London was the girl who loved to pick a fight over anybody who just decided to 'push her buttons' and tried to piss her off....and she was a smart one at that to considering that she was holding a 92% average.
When in community college to get her associates degree in photography, London kept her anger under control, but it only got the best of her when it came to if they were to insult her family for basically no reason whatsoever,
London Harmony Harvick

Born

July 16, 1987 (24)

Hometown

Bakersfield, California
because she cared more about her family then she did her own life...and she only got in trouble for her anger about six times in community college, but it was nothing too too severe.
After graduating from community college, Kevin decided that it would be a good idea to have her on the road with him, incase that if her anger decided to take over her, he would be there to calm her down. Well, that worked, until around Chase time in 2010 where she was just hanging out in the media center at Dover International Speedway, where she heard an interview that was being given by the current points leader at the time Denny Hamlin, who was basically accusing Kevin's race team RCR of basically cheating for the past few months because of what happened the week before at Loudon where after winning the Loudon race, Clint Bowyer got handed the 150 point penalty after having a car that was sixtythousandths of an inch illegal.
London's Twitter account is @CaliforniaGurl29. She uses it to talk to her friends and fans of NASCAR