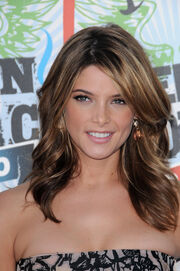 Madison Angel Johnson was born in December 7, 1987 in El Cajon, California. She is the younger sister to NASCAR Sprint Cup driver Jimmie Johnson. She is the girlfriend to NASCAR Sprint Cup driver Jamie McMurray.
Growing up, Madison was definitely known as a nerd, where she would either get perfect or near perfect results in either academics or athletics, which were soccer, lacrosse and ice hockey.
Madison graduated from high school with a 98% average, making her the valedictorian of her graduation class and got a full scholarship to the University of California , which she took that opportunity and got herself a Master of Health Administration.
For the rest of the 2008 NASCAR season and for the whole 2009 NASCAR season, Madison only spent only the important races (to her) on
Madison Angel Johnson

Born

December 7, 1987 (24)

Hometown

El Cajon, California

Resides

North Carolina

Spouse

Jamie McMurray (boyfriend)

Children

Jennifer (b. 2010)
the NASCAR schedule, which were the Daytona 500, All-Star race, Coca-Cola 600, the two races at California (the ones at Auto Club Speedway and the annual road course in Sonoma, California) and the final race of the season at Homestead-Miami Speedway becuase she didn't want to be spending her time on the road for the whole 10 month season becuase she thought it would tire her out a bit just as like a fan watching the action. Also, when she was at the track for those occasions, that was (obviously) where she met her future boyfriend Jamie McMurray.
She then started to be on the NASCAR road full time starting in the 2010 season, and it started out eventful for her, as she was standing in Victory Lane with Jamie, just to congratulate him on winning the Daytona 500, and that ended out for her in him asking him out to be his girlfriend, which she'd accepted, and to this date, those two have been dating for a year and five months.
She currently resides in North Carolina with Jamie, Jamie's little sister Carmen, and her and Jamie's ten month old daughter Jennifer Emma (born November 25, 2010)
Madison's Twitter account is @Little5time48, where she uses it to posts photos of random things, and talk to her friends, and either fans of NASCAR, fans of Jimmie or fans of Jamie.