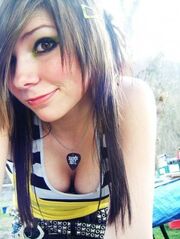 Marissa Ivy Bayne was born on October 5, 1992 in Knoxville, Tennessee weighing at 7lbs 10oz. She has one older brother which is the 2011 Daytona 500 Trevor Bayne.
During her elementary school years, Marissa was picked on for being 'not girly' because she came to school every day wearing clothes like gothic shirts, sweat pants and Converse high top shoes.
It was the same thing for her when she came into high school, which she would take out her frustration in taking kick-boxing classes. When she would get picked on, she fought the kid, and ended up being suspended for about two months. That was like that for her freshman, sophmore, junior and senior year...which made her decide not to head to university in fear of she would get the same treatment as she had recieved during her elementary and high school life, despite being offered a
Marissa Ivy Bayne

Born

October 5, 1992 (19)

Hometown

Knoxville, Tennessee
full scholarship to the University of Tennessee.
When she finished high school, Marissa then went on the road Trevor as he drove in the NASCAR Nationwide Series and eventually part time in the Sprint Cup series, where in 2011 he went on to win the Daytona 500.
Marissa's Twitter account is @MarissaB. She mainly uses it to talk to her friends, family, fans of her brother and just general NASCAR fans