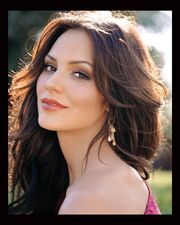 Sara Tyler Busch was born on March 17, 2008 in Las Vegas, Nevada weighing at 6lbs 2oz. She is the daughter of NASCAR Sprint Cup driver Kurt Busch, the biological mother of Eva Busch and the stepdaughter of Patricia Driscoll. She is the niece of NASCAR Sprint Cup driver Kyle Busch, Samantha Sarcinella and
Tyra Busch
. She is the cousin of April Busch

Sara didn't see much of her mother growing up because when she was three years old, her parents filed for a divorce, but she did see her mother when NASCAR does their annual stop in Las Vegas and whenever she was needed to be at school. She has somewhat of a mother/daughter relationship with Driscoll, but not a great motherdaughter relationship.
Sara Tyler Busch

Born

March 17, 2008 (age 23)

Hometown

Las Vegas, Nevada

Parent(s):

Kurt Busch (father) Eva Busch (biological mother) Patricia Driscoll (step-mother)

Family Member(s):

Kyle Busch (uncle) Samantha Sarcinella (aunt) Tyra Busch (aunt) April Busch (cousin)
Sara got her interest in racing at a year old when she saw her first Daytona 500 and even at a young age, knew she wanted to be in the biggest race of the NASCAR schedule.
Whenever she was not racing, she was in a few sports teams at her school, main ones being soccer and cheerleading. After graduating from highschool, instead of going to college like some of her family wanted her, (with the help of Kyle), she managed to get a deal done where she got a full season racing in the NASCAR Camping World Truck Series with her uncle's race team, where she ended up winning 50% of the races on the schedule, where 25% of those races she just flat dominated.
She moved up to the Nationwide Series, racing for Tia Gibbs in her uncle's #18 Nationwide Toyota Camry, where she went and win 2 races that season, and ended up in the Top 10 in the points in the 9th position.
After two seasons in the Nationwide Series, she signed a deal with Jayden Penske to drive her father's #22 Dodge Charger and managed to win 5 races that season, made the Chase, but ended up 8th in the points.
Sara's Twitter Account is @SaraBusch22. She uses it to talk to her friends and fans of NASCAR, and regularly posts updates about herself when it comes to racing.