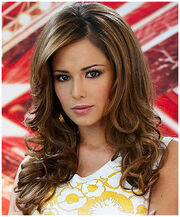 Tia Melaine Gibbs was born on August 20, 1987 in Charlotte, North Carolina weighing at 6lbs 2oz. She is the daughter of NASCAR team owner and former NFL coach Joe Gibbs. She is the younger sister of J.D and Coy Gibbs.
Tia was brought to the racing scene at a young age of four years old when she literally begged her father to bring her to a race, so that she would experience it in person and not just sit at home with a babysitter and just watch the race on television. Ever since then, whenever she got the chance to, she wanted to get into the racing world, which was a way for her to get
Tia Melaine Gibbs

Born

August 20, 1987 (23)

Hometown

Charlotte, North Carolina

Parent(s)

Joe Gibbs (father)

Sibling(s)

J.D Gibbs (brother) Coy Gibbs (brother)
away from any possible troubles that she had either in school or in her personal life, and just get away from all that even for just a few hours.
In school, she was more known as the 'popular girl', because of her father and his involvement in racing and in football, and she really didn't like how people wanted to be her friend, because of that, rather than be her friend for her, and she ended up having like three very close friends who ended up loking Tia for her, and not because of her father.
Tia graduated from community college in 2007 with an associates degree in business and commerce technologies and ended up working for her father as a contract negotiator for the drivers that are currently driving for the organization that either wants to have a contract extension or needs something in there in order for that contract extension to happen, possible new drivers that are of great interest from her father to have that driver to join the organization, and even negotiate the contracts for the sponsors that have joined with her father's race team.
Tia's Twitter account is @RaceHardWinHard, where she uses it to talk to her friends and fans of NASCAR.