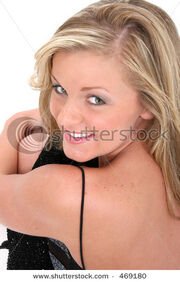 Trinity Katrina Bayne was born on July 1, 2012 in Knoxville, Tennessee weighing at 8lbs 13oz. She is the adopted daughter of NASCAR Sprint Cup Drivers
Summer Keselowski
and Trevor Bayne. She is the adopted niece of Brad Keselowski, Brian Keselowski, Denny Hamlin,
Serena Hamlin
and
Marissa Bayne
. She is the adopted cousin of
Britney Hamlin
and
Kelsey Keselowski
.
Trinity wounded up in an orphanage at the young age of four months when her mother died while giving birth to her and her father died just two months after in a car accident. She was in the orphanage for a total for twelve years before being adopted by Summer and Trevor (who Trinity was a huge fan for when she was able to watch NASCAR in the orphanage).
Trinity Katrina Bayne

Born

July 1, 2012 (age 19)

Hometown

Knoxville, Tennessee

Resides

North Carolina

Parent(s):

Summer Keselowski (adopted mother) Trevor Bayne (adoped father)

Family Member(s):

Brad Keselowski (adopted uncle) Brian Keselowski (adopted uncle) Serena Hamlin (adopted aunt) Denny Hamlin (adopted uncle) Britney Hamlin (adopted cousin) Kelsey Keselowski (adopted cousin)
When she was adopted, Summer had scheduled fora traveling tutor for Trinity to continue with the education that she was getting from the orphanage, and she finished her tutoring sessions with a 3.9 GPA. After finishing her education at the age of fifteen, Trinity decided to become a race car driver, which was her dream profession ever since she laid eyes on the sport when she was six years old.
When she was seventeen, she completed a season of ARCA racing, where she'd finished second in the standings before moving over to the Nationwide Series, driving for Roush Fenway Racing, where'd she won 3 races and 2 poles. She is planning on racing 2 seasons of Nationwide before moving over to the Cup Series.
Trinity's Twitter Account is @LittleKnoxville21. She mainly uses it to talk to fans of NASCAR and posts photos of herself and wherever she may be.